Adam Dunn has been on fire this spring. In 36 plate appearances, the brawny lefty has belted four home runs to go along with 12 RBIs and an impressive slash line of .308/.500/.808. Normally, for an 11-year veteran with a career OPS+ of 127, spring numbers, regardless of how impressive, wouldn't even amount to a footnote. However, in 2011, Dunn had anything but a normal year. In fact, his inaugural campaign with the White Sox was probably one of the worst ever turned in by a player of his caliber.
How bad was Adam Dunn in 2011? His .159 batting average was the lowest among all batters with at least 375 plate appearances in a major league season. Period. No qualifications. Even lowering the bar to 315 plate appearances allows only Bill Bergen to surpass his futility, but considering the sordid history of his brother Marty Bergen, being unable to hit was probably less of a concern for the former catcher.
Lowest Batting Averages Since 1901 (minimum 375 PAs)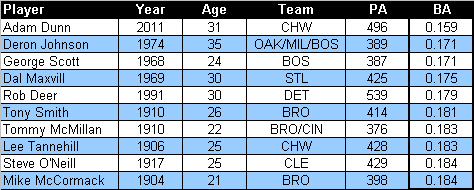 Source: baseball-reference.com
Still unconvinced? Dunn's 177 strikeouts in 2011 gave him more punch outs than batting average points, making him only the second non-pitcher with more than 35 plate appearances to sink to such a depth (in 2010, Mark Reynolds struck out 211 times and batted .198). Need more? Despite managing 27 extra base hits, Dunn's OPS+ of 56 was the 42nd worst in the last 50 years among all hitters with at least as many plate appearances as the big lefty, which is even more remarkable when you consider he still has the 23rd highest career OPS+ among active players with 3,000 plate appearances.
The juxtaposition of excellence and exceptional futility is what makes Dunn's 2011 campaign truly historic. Since 1901, 2,534 players have combined for 12,035 seasons with at least 480 plate appearances and, of that total, only 195 have ended up with an OPS+ of 60 or lower. However, at the time they joined list, no one had a cumulative OPS+ as high as Dunn's, and only five others rated at least league average for their careers.
Best of the Worst: Good Hitters Who Have Had Very Bad Seasons

Note: Based on hitters with at least 480 plate appearances in their OPS+ <= 60 season.
Source: baseball-reference.com
If there's one consolation for Dunn, it's that four of the five names accompanying him on the list above are enshrined in the Hall of Fame, even if Max Carey, Brooks Robinson, and Travis Jackson joined this infamous fraternity at the end of their careers. The only non Hall of Famer, Tony Bernazard, also offers a sliver of hope. After posting an OPS+ of 60 in 1984, the Indians' second baseman followed up with consecutive seasons that were well above average. However, the greatest inspiration has to be Carlton Fisk, who, at the age of 38, posted an OPS+ of 60 in 1986. Amid whispers suggesting the catcher was nearing the end, Fisk rebounded in a big way by posting an OPS+ of 121over the  next five seasons (covering 2,247 plate appearances). Although much younger than Fisk was at the time, Dunn would probably sign up for a similar comeback in a heartbeat.
Finally, it's interesting to note that the White Sox have had 16 players "qualify" for the "futility list", the most of any team in the majors (excludes players who spent the year with more than one team). Yankees' fans shouldn't snicker, however, because the Bronx Bombers are not that far behind with nine. Also worth pointing out is six of those nine seasons involved a Yankees' shortstop, which is something to consider the next time you catch yourself taking Derek Jeter for granted.
Worst Offensive Seasons in Yankees' History, by OPS+


Note: Based on hitters with at least 480 plate appearances.
Source: baseball-reference.com