Is James Loney a potential batting champion? That's what he seems to think. And, his manager, Don Mattingly, agrees.  It's hard to argue with Donnie Baseball, a career. 307 hitter who won a batting title  in 1984, but is Loney really capable of such a feat at this stage in his career?
No one would have blinked at the idea of Loney winning a battle title when he was selected by the Dodgers in the first round of the 2002 draft. In fact, after hitting .331 in his abbreviated rookie season, it seemed as if winning a batting crown was only a matter of time. Well, since that season, the clock has been ticking, and, instead of fulfilling his potential, Loney has only provided frustration.
What has Loney and the Dodgers optimistic entering 2012 is the first baseman's performance at the end of last season. In the final 52 games of 2011, Loney hit .357 with eight HRs and 32 RBIs, finally providing a glimpse of the player the Dodgers thought they were drafting.  It wasn't the first time in his career that he had a hot stretch, but according to the lefty, it was an epiphany in terms of understanding himself as a hitter.
Over the last two years I've tinkered too much, maybe, and changed too many things. Any time you do that, it may take a little while to get back to where you were. Those are sometimes the growing pains you have to go through." – James Loney, quoted by the Los Angeles Times, March 5, 2012
Loney's self-confidence is impressive, but to this point in his career, the soon-to-be 28-year old first baseman has never even had a .300 season, much less compete for a batting title. That's what makes his ambition seem overly optimistic. After all, history suggests that batting champions are born, not made.
Age Distribution of Batting Champions' (Since 1901) First .300 Season

Note: Excludes Jesse Burkett, Ed Delahanty, and Cy Seymour, whose careers began well before the advent of the modern era in 1901.
Source: Baseball- reference.com
Since 1901, nearly 90% of the 122 different batting champions (excluding Jesse Burkett, Ed Delahanty, and Cy Seymour, whose careers began well before the modern era) had at least one .300 season before turning 26. That leaves only 13 players who went on to lead the league in hitting after failing to hit over .300 until at least their age-28 season,. So, if Loney is going to join that select company, he'll have to overcome history.
Batting Champions with First .300 Season at Age-28 or Older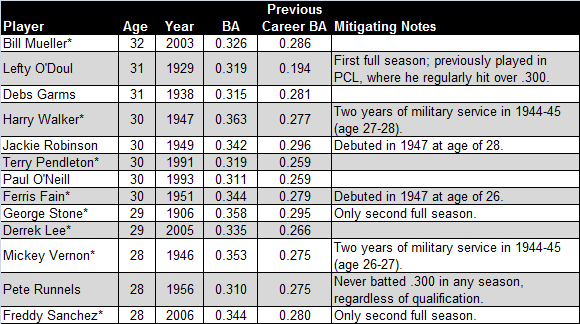 *Indicates batter also won the batting title in the same season.
Source: Baseball- reference.com
Becoming one of only 14 hitters to win a batting crown without a .300 season before the age of 28 would be exclusive enough, but upon closer inspection of the list above, Loney's attempt has even less precedent. Of the 13 players in the same boat, seven have mitigating circumstances (see Notes section above) and only five have completed the task since 1956. Included among the latter are Freddy Sanchez, Derrek Lee, Paul O'Neill, Terry Pendleton, and Bill Mueller, who waited the longest to have his first .300 season. In 2003, after a career hovering around the .290 mark, Mueller finally broke through with not only a .300 season, but also a batting crown at the age of 32.
As a left hander, O'Neill seems to be the best role model for Loney. Like the Dodgers' first baseman, O'Neill first broke into the majors at the age of 22 and needed about 3,000 plate appearances before finally hitting .300. Both players were also subject to tinkering by coaches who wanted to adapt their swings for more power. So, if Loney has finally come to understand himself, just like O'Neill did when he joined the Yankees, maybe a breakout batting title really is within the realm of possibility.