(The following was originally published at SB*Nation's Pinstripe Alley)
When the Yankees signed Hiroki Kuroda, some pundits wondered whether the Japanese "right hander" would be able to adapt to the scrutiny that comes with pitching in New York. And, judging by his comments leading up to yesterday's home opener, some of those concerns seemed well founded.  However, if there were any lingering doubts about Kuroda's ability to flourish under the microscope of New York City, some of which may have resided in his own mind, the veteran's historic Opening Day performance should allay those fears.
"Rather than being excited, I'm more worried about how I'm going to perform. Since I've never pitched at Yankee Stadium, I'm a little bit preoccupied. But I try to do my best and have the best outing possible." – Hiroki Kuroda, quoted in the New York Times, April 12, 2012
If Kuroda was preoccupied by the pomp and circumstance of Opening Day at Yankee Stadium, he wasn't letting on.  Not only did the veteran have "the best outing possible" over eight innings, he also came within three outs of one of the greatest pitching performances in a Yankees' home opener. Not bad for a pitcher with butterflies before the game.
When Kuroda took the mound in the top of ninth inning, he was trying to become only the 10th pitcher in franchise history to throw a complete game shutout in the home opener and the first since Rick Rhoden accomplished the feat in 1988. What's more, with a shutout frame in the ninth, Kuroda could have walked off the field with the highest game score in the history of Opening Day in the Bronx. However, a leadoff infield single and a high early-season pitch count forced him to settle for a rousing standing ovation from the sellout crowd
Top Game Scores in a Yankees' Home Opener, Since 1918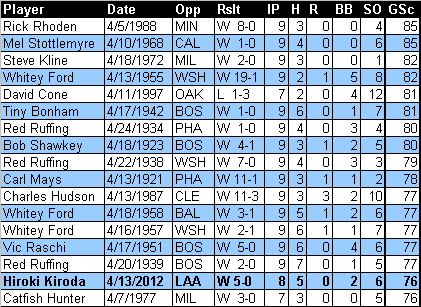 Source: Baseball-reference.com
Compounding Kuroda's nerves entering yesterday's game was the fact that in addition to Opening Day, it was also the right hander's debut at Yankee Stadium. Not since Jimmy Key introduced himself to Yankees' fans with eight shut out innings on April 15, 1993 had a pitcher made a first impression as positive as Kuroda's, so you can understand why the veteran had some jitters, especially after his lackluster first start against the Rays in Tampa. However, after the game, the only emotion was elation. "It was the greatest feeling in the world," Kuroda told reporters. "I'd like to continue it as much as I can."
Now that Kuroda has been baptized as a Yankee, he can get to work converting the remaining doubters who still think he'll be overwhelmed by both New York and the fearsome lineups in the A.L. East. One start won't make everyone a believer, and there are no guarantees that Kuroda will be successful in the Bronx. However, one thing does seem clear. If the veteran doesn't have a good season, it won't be because he can't handle New York.