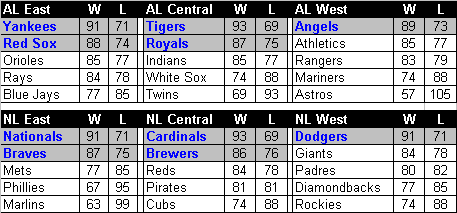 Playoff Scenarios
Brewers beat Braves in Wild Card game.
Red Sox beat Royals in Wild Card game.
Nationals beat Dodgers in NLDS.
Cardinals beat Brewers in NLDS.
Tigers beat Red Sox in ALDS
Yankees beat Angels in ALDS
Nationals beat Cardinals in NLCS.
Tigers beat Yankees in ALCS.
Nationals beat Tigers in World Series
Regular Season Awards
NL Cy Young: José Fernández
NL MVP:  Carlos Gomez
NL ROY: Travis d'Arnaud
AL Cy Young: Chris Sale
AL MVP:  Mike Trout
AL ROY: Masahiro Tanaka
Three Bold Predictions
1. The Phillies will hold a fire sale at the trade deadline. Cliff Lee, Jimmy Rollins and Chase Utley will be among the players traded to contending teams.
2.  Before the end of the first half, Yasiel Puig will be demoted to the minor leagues, and, after a failed trade attempt, return to the majors to help lead the Dodgers to the NL West title.

3. Masahiro Tanaka will strikeout 18 batters in one game, tying the Yankees' single season strikeout mark held by Ron Guidry.