Although the reasons have varied over the years, the BBWAA has long placed importance on the notion of a first ballot Hall of Famer. Even though the Hall of Fame makes no such distinction, and despite the fact that several great players have needed multiple ballots to gain admittance, for the most part, the class of first-timers does represent the Cooperstown elite. However, there are some exceptions.
Average WAR per Hall of Famer, based on Eligibility Year When Inducted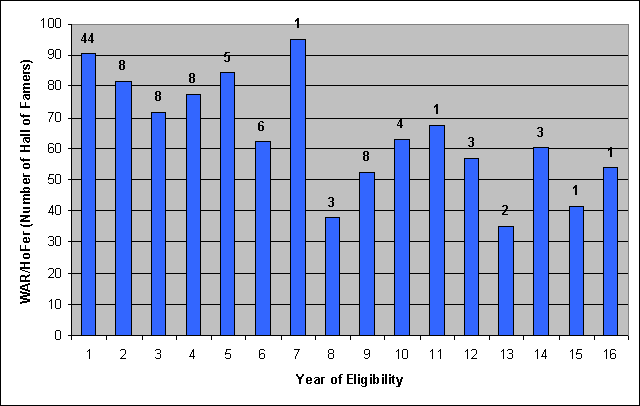 Source: baseball-reference.com and baseballhall.org
There are 27 first ballot Hall of Famers whose career WAR is lower than the average for the entire class of 44 inductees. Of that total, 21 had a career WAR that was also lower than the average for those inducted in their second year. However, many on the list either had an extraordinary peak (Sandy Koufax), a career shortened by extenuating circumstances (Bob Feller and Jackie Robinson) or a defensive specialty that might not be appropriately reflected by WAR (Brooks Robinson and Ozzie Smith). Still, there a few candidates who don't fit the profile of a first ballot inductee.
The most obvious Hall of Famer who doesn't seem to belong in this elite class is Lou Brock, whose 39.1 WAR not only ranks last among first-timers, but also sits in the bottom-10 among all players elected by the BBWAA (and is much lower than several players not in the Hall of Fame). With the exception of his stolen base total, Brock's career does not stand out, even by traditional metrics. Apparently, when it came time to decide on his candidacy, his then record 938 stolen bases were enough to seal the deal. Since then, the perceived value of the stolen base has been greatly diminished, which might explain why Tim Raines, who was an all around superior player, has found it so difficult to pass the 75% vote plateau.
Another player who seems out of his depth among the first balloters is Kirby Puckett. In fact, many question whether Puckett should have been elected at all. Undoubtedly, Puckett's election included somewhat of a sympathy vote, considering his career was cut short by a bean ball, but nonetheless, it does seem as if the BBWAA stretched its usually stringent criteria when so quickly deciding upon Puckett's candidacy.
Depending on how exclusive one defines the first ballot distinction, players like Eddie Murray, Dave Winfield, and Dennis Eckersley might be called into question, but for the most part, those lucky enough to earn immediate enshrinement seem deserving.
Bottom-10 Hall of Famers Elected by BBWAA, Ranked by WAR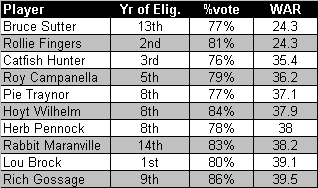 Source: baseball-reference.com
On the flip side of the debate, there are 10 players with a WAR higher than the first ballot average as well as several others with peak careers that merit inclusion. It's hard to imagine that players like Cy Young, Tris Speaker, Rogers Hornsby and Joe DiMaggio did not get in on the first ballot, but in the early days of the Hall of Fame, even the game's best players were forced to wait their turn.
Top-10 Non First Ballot Hall of Famers Elected by BBWAA, Ranked by WAR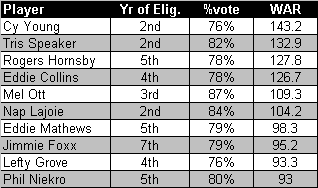 Source: baseball-reference.com
Baseball fans and Hall of Fame voters will likely continue to debate the concept of the first ballot, but once a player is enshrined, the distinction really has no meaning. Of course, that's no consolation to the player who winds up dropping off the ballot completely because of this philosophy. Just ask Lou Whitaker, Bobby Grich, and Ron Santo, all of whom had strong Hall of Fame credentials, but dropped off the ballot in their first year of eligibility.
Best Players to Drop Off HoF Ballot in 1st Year of Eligibility, Ranked by WAR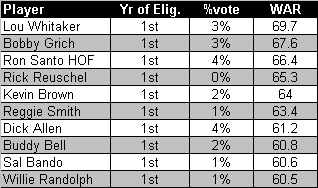 Source: baseball-reference.com