After Mark Cuban was eliminated from the bidding process for the Los Angeles Dodgers, the billionaire offered an interesting explanation for coming up short. "I wanted to buy a baseball team," Cuban stated, "they were selling a media rights deal".
Cuban's comment was a reference to the Dodgers' expiring TV contract with FOX, which currently pays the team approximately $40 million per year. However, based on a recent media deal the Angels signed with FOX, which is reportedly worth $3 billion over 20 years, the expectation is the Dodgers could more than quadruple their local TV revenue when a new pact is negotiated following the sale of the team next April. Of course, the new ownership group could also decide to leverage the value of the TV rights into the creation of a regional sports network (RSN), creating even greater potential for revenue expansion.
For years, baseball teams have habitually undervalued their product's attractiveness as a media property (interestingly, in the 1980s, the Montreal Expos were at the forefront of marketing its TV rights and enjoyed the highest fees). That was easy to understand in the days before cable and the internet, when network TV was the main source of media revenue. In that bygone era, baseball was at a disadvantage because of the high volume of games (which eliminated element of scarcity) and the regional nature of the sport. As a result, the NFL, which had a broader appeal and constrained supply, reaped the benefits and soared past baseball in terms of revenue. Recently, however, baseball has been catching up.
With the proliferation of cable and the internet, content has become king. From RSNs to satellite radio to internet streaming, the number of hours to fill in the new media landscape has increased exponentially, making baseball's 162-game schedule a very attractive asset. Some teams have taken advantage of this trend by starting their own cable channels (ranging from big market teams like the Mets, Yankees, and Red Sox to smaller market clubs like the Cleveland Indians), while others have cashed in via lucrative rights extensions, which, in some cases, have included equity stakes in an independent RSN. Recent deals between FOX and the Texas Rangers and Los Angeles Angels are examples of teams being rewarded in such a manner, and, according to reports, even the San Diego Padres are on the verge of cashing in.
Estimated Value of MLB's Most Expensive Franchise's


Source: Forbes.com, as of 3/22/2011
Considering his apparent business acumen, not to mention his involvement in sports as owner of the NBA's Dallas Mavericks,  it's hard to imagine Cuban wasn't aware he was bidding on much more than just a baseball team. Or, maybe he did know, but didn't expect the bidding to go so high? With the selling price expected to approach, and perhaps top, $1.5 billion (almost double Forbes' estimated valuation), even those with very deep pockets would have to think twice about their level of interest. Of course, that hasn't stopped approximately one dozen offers from rolling in.
With so much interest in the team, the Dodgers will probably wind up setting a record for the highest price every paid for an American sports franchise, and may even surpass the $1.5 billion the Glazer family paid for EPL icon Manchester United in 2005 (since then, the Glazers have reportedly been offered nearly $3 billion for Man U). Regardless of the final amount, Frank McCourt is sure to be a very rich man once again (even after paying back all his debts), but perhaps more significantly, 29 other owners may be left wondering just how much their team is really worth.
Top-10 Most Valuable Sports Teams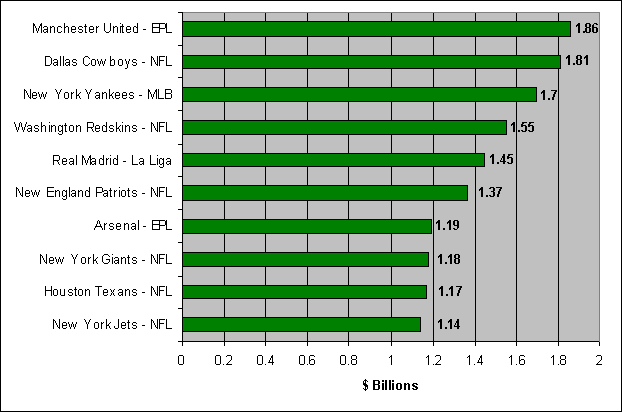 Source: Forbes.com, as of 7/12/2011
Obviously, teams like the Kansas City Royals and Pittsburgh Pirates aren't going to generate the same level of interest (although, if Cuban really does just want to buy a baseball team, maybe he'd make an offer?), but other large market teams probably would. In fact, with so many bidders involved in the Dodgers' sale, it might be a perfect time to piggyback on that process. After all, floating around the game are 10 or more groups with commitments to raise billions of dollars in cash, and only one of them is going to be awarded the Dodgers.
The most logical team to put up the next "For Sale" sign seems to be the New York Mets. Before last season, Forbes valued the Mets at $750 million, or just $50 million below the Dodgers. However, that value has declined significantly in recent years because of mismanagement as well as the Madoff-related financial morass facing Fred Wilpon's ownership group. Just two years ago, Forbes valued the Mets at over $900 million, and many of the same fundamentals remain in place. In particular, not only does the team have a brand new stadium, but it also has an ownership stake in SNY, an RSN that serves the lucrative New York market. As much as the Wilpons have been reticent to sell, if one of the groups spurned by the Dodgers bidding process turns its attention to the Mets, it might be hard to say no.
Needless to say, if there is an ownership group interested in the Mets, they'd probably bend over backwards for a chance to purchase the Yankees. Then again, considering Forbes' $1.7 billion value estimation and the multiple being assigned to the Dodgers by the market, the Yankees might be too rich for some of the bluebloods sniffing around other teams. If the Bronx Bombers sold for twice their Forbes' valuation, or about $3.4 billion, it would take some very deep pockets, or highly levered financing, to complete the transaction. So, even though such a price tag would have to tempt the Steinbrenner family into considering a sale, it may also be prohibitive for perspective buyers.
Other large market teams may also be enticed to consider a potential sale. At 76, maybe Jerry Reinsdorf would be interested in winding down his 40-year tenure as owner of the White Sox? During a radio interview last October, hedge fund manager John Henry didn't dismiss the possibility of one day selling the Red Sox. Might the offers being thrown around convince him the time is now? Every franchise sale comes with its own unique set of circumstance, and most recent team dispositions have come because of dysfunction within the current ownership group, but if the price is right, who knows if another team will be confronted by an offer they can't refuse?