Opening Day, or at least yesterday's version of it, pitted the two teams with best and worst Spring Training records. The Toronto Blue Jays just wrapped the second best spring winning percentage (.774) in a non-labor impacted season since 1984, while the Cleveland Indians turned in the lowest rate of success (.241) over the same time span. So, naturally, instead of the implied mismatch, the game went 16 innings.
Longest Opening Day Games, Since 1918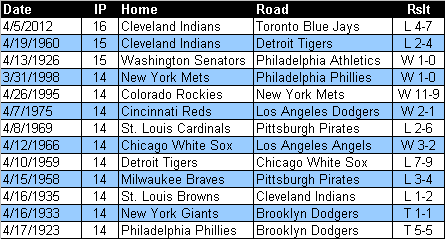 Source: Baseball-reference.com
Until the Blue Jays rallied for three runs in the top of the ninth, the Indians were headed for a nice and easy 4-1 victory. However, what actually transpired was the longest Opening Day game in major league history. It took 16 innings for the Blue Jays to finally come out on top, but after J.P. Arencibia's three-run homer, the order of the spring was restored and the two teams found themselves in a familiar position at the conclusion of the game.
Perfect Closers in the Year After


Source: fangraphs.com and baseball-reference.com
The Indians weren't the only team to blow a save yesterday. In Detroit, Jose Valverde coughed up a two-run lead before the Tigers rallied to beat the Red Sox 3-2 in the bottom of the ninth. What made Valverde's blown save particularly significant was the fact that he had gone all of last season without suffering one. In 2011, the Tigers' closer became only the third reliever to compile at least 30 saves without surrendering a lead. This year, however, Valverde left no suspense about an encore, becoming the quickest among his fraternity to abandon perfection. In addition,  Valverde also forfeited a chance to break Tom Gordon's American League record of 54 consecutive saves. Just imagine the celebration that would have ensured.
Longest Consecutive Saves Streaks

Source: Baseball-reference.com