When a struggling rookie or underperforming star of prime years is traded, he is often expected to benefit from a "change of scenery". When a veteran toward the end of his career is dealt, the magic elixir becomes rejuvenation, especially when the new destination is a big market team in the midst of a pennant race. For some observers, it is upon that basis that the Yankees' recent trade for Ichiro Suzuki makes sense. But, is this pearl of baseball wisdom supported by precedent?
Since 1901, 29 players aged 38 or older who had at least 400 plate appearances changed teams in the middle of a season. Without factoring in the relative number of at bats for each team, there is an even number of players who experienced an increase or decrease in OPS+ after being traded (14 a piece). However, Bobby Lowe's single plate appearance with the Pirates in 1904 hardly seems relevant to the question at hand. So, by refining the sample to players who had at least 75 plate appearances for both teams (with two exceptions noted below), the list of applicable cases becomes 20.
Veterans Who Changed Teams Mid-Season, 1901-2012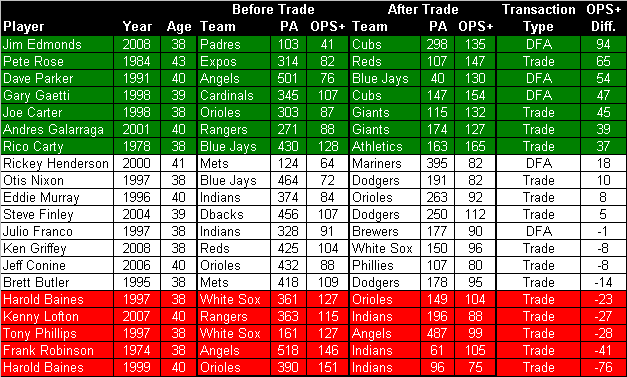 Note: Based on players aged 38 older with at least 400 total plate appearances and at least 75 plate appearances for two different teams. Frank Robinson and Dave Parker included because OPS+ change was significant.
Source: baseball-reference.com
Based on OPS+, five players experienced a decline of 20 points, seven improved by at least 20 points, and eight remained range bound. Among the most meaningful decliners, Harold Baines was twice traded in the midst of a very strong offensive year, only to see his production plummet upon joining a new team. Frank Robinson also experienced a significant decline from lofty levels after his trade to the Indians in 1974, while Tony Phillips and Kenny Lofton were examples of veterans who regressed from hot starts to average finishes.
Although they didn't experience significant declines in production, the middle group also defied the "fountain of youth" expectation. Despite the change of scenery, this segment, which featured future Hall of Famers like Eddie Murray, Ken Griffey Jr., and Rickey Henderson, maintained the same performance level, so, if their acquirers were hoping to turn back the clock, Father Time did not comply.
There is a class of six players whom the Yankees hope Ichiro will eventually join. The most recent entrant to this group was Jim Edmonds, who, after being released from the Padres in 2008, rebounded in a big way with the Cubs. Dave Parker and Gary Gaetti were two other examples of players who found more success after being released, albeit on a smaller scale. That leaves only three players who most fit the profile that Ichiro now holds: a veteran traded mid-season.
In 2001 Andrés Galarraga was struggling with the Rangers, but after being acquired by the Giants, the Big Cat enjoyed new life (although it isn't clear which one of the nine). In 174 plate appearances, Galaragga posted an OPS+ of 127, which almost helped the San Francisco snare the wild card. Three years earlier, the Giants also struck gold when Joe Carter joined the team after a trade with the Orioles. Like Galaragga, Carter flourished by the Bay, boosting his OPS+ by over 40 points. Finally, in 1984, Pete Rose was languishing in Montreal before getting a reprieve in mid-August. Although he wasn't sent to a pennant race, Rose was dealt to his hometown Cincinnati Reds and immediately installed as a player/manager. Over his final 107 plate appearances that season, Charlie Hustle helped celebrate his homecoming by batting .365.
Will Ichiro be rejuvenated with the Yankees? The possibility exists, but that doesn't mean we should judge the trade based on such an expectation. Although it's fun to imagine Ichiro recapturing his past glory in pinstripes, there are plenty of reasons to justify the trade without resorting to wishful thinking. If the 2001 Ichiro walks through the door, even better, but the 2012 version still suits the Yankees just fine.