It's been a very active winter meetings for major league baseball, but one team has been conspicuously silent. In the past, the Yankees were rumored to be involved with every big name free agent, regardless of need, but now, the team isn't even considered a contender to retain its own players. Will Brian Cashman make a last minute strike, as he has done so often in the past? Or, is the team committed to shopping in the discount aisle, opting for journeymen like Nate Schierholtz instead of superstar players like Josh Hamilton and Justin Upton? It all depends on plan 2014.
It's difficult enough for Yankee fans to come to terms with their team operating in a cost cutting mode. However, what makes the Bronx Bombers' current economic plan particularly frustrating is the lack of details surrounding it. Aside from the questionable motives for the team's self-imposed budget (i.e., is it strictly economical or a smokescreen for a brief rebuilding period), the uncertainty about just how much the team has to spend has created confusion over what moves the team could and should be making.
If the Yankees were trying to squeeze under a budget for the current season, it would be easy to assess their progress. That doesn't mean fans would embrace the strategy, but at least they would be able to understand it. However, because the Yankees' end game takes place in 2014, it has been difficult to follow the team's strategy, considering all of variables involved. So, in an effort to simplify the team's current situation a little, below is a snapshot of its 2014 financial obligations.
Yankees 2014 Financial Obligations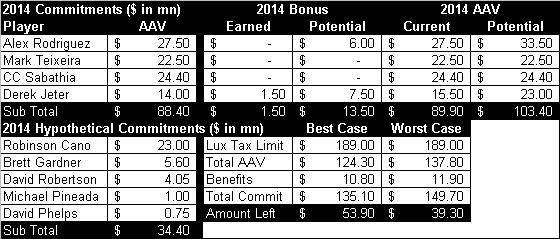 Note: See paragraphs below for explanation of contract assumptions.
Source: Cots Contracts for salaries, MLBTR for base arbitration estimates.
The Yankees currently have $90 million in annual average value (AAV) committed to the 2014 payroll. Although the actual dollar amount is much less ($73.5 million) because of Derek Jeter's player option and Alex Rodriguez' front loaded contract, the AAV of each deal is the benchmark used for determining payroll, as it pertains to the luxury tax threshold. Further complicating the matter for the Yankees is the fact that Arod and Jeter both have makeable bonuses that could increase the value of their 2014 salary. For example, if Arod hits home run number 660 in 2014, that would tack on a $6 million marketing bonus. Meanwhile, Jeter has several potential bonuses that could increase his 2014 salary to $17 million, and, by extension, his 2014 AAV all the way to $23 million. If the worst case scenario came to fruition, the Yankees would have an AAV obligation of $103 million owed to those four players alone.
In addition to the team's 2014 commitments, there are at least five players whom the Yankees will likely be interested in retaining. The most obvious, Robinson Cano, will require a significant outlay. Based on his current status, it seems reasonable to project that Cano will sign a long-term deal worth north of $20 million per year. For the purposes of this exercise, $23 million was selected, but the final figure could be a little more or less, depending on the length of the contract.
Aside from Cano, the Yankees will likely seek to retain Brett Gardner and David Robertson, each of whom will be entering their third-year of arbitration. In order to estimate their 2014 salaries, I doubled Gardner's projected 2013 figure (based on a model devised by MLBTR's Matt Swartz) and increased Robertson's by 50%. Granted, these figures could vary significantly from the final amount paid, but considering precedent, they provide reasonable estimates. Finally, David Phelps and Michael Pineda will still be under team control in 2014, so unless traded, it seems safe to assume they will renewed between the minimum of $500,000 and $1 million.
The nine players most likely to be on the Yankees' roster in 2014 will have an AAV between $124 million and $138 million. However, AAV isn't the only cost that counts toward the luxury tax threshold. In addition, the CBA defines player benefit costs ($10,779,590 in 2013) as a payroll obligation. The exact amount for 2014 is unknown, but assuming average salaries continue to rise, the final bill will be between the previous year's figure and an increase cap of 10%, or approximately $11.9 million.
With benefits added, the Yankees' projected 2014 payroll figures to be between $135 million and $150 million, leaving approximately $39-$54 million left to spend that season. The implication of such a range is clear. The quartet of Andy Pettitte, Hiroki Kuroda, Mariano Rivera, and Curtis Granderson will make $52 million in 2013, so if the team re-signed each player to a one-year extension for the same money in 2014, it would already be pushing up against the limit of the best case scenario. Of course, that would still leave 27 slots on the 40-man roster to fill, and, even if all were paid the minimum salary, the resultant total of $13.5 million would send the team well past the threshold.
The extent of the team's current obligations means the Yankees are probably already in the midst of a significant retrenchment, assuming, of course, they truly intend to dip below the luxury tax threshold. With so many moving parts, it's easy to see why the team's off season strategy seems like a game of Tetris, one that is starting with several pieces already arranged haphazardly on the board. After all, the Yankees are trying to construct a financial framework around several large commitments that made sense when the team wasn't operating under a self-imposed budget. Although some have portrayed the Yankees' current predicament as the result of past mistakes, in reality, the team is being forced to confront its past success. Players like Arod, Sabathia, and Teixeira were acquired at premium prices that were likely to exceed future value because the Yankees have always been committed to maintaining excellence at any cost. Now, by changing the rules so suddenly, the team finds itself facing a disconnect between its past philosophy and new policy of fiscal restraint. Can Brian Cashman make those two ends meet? If not, Yankee fans will likely have zero tolerance for excuses.