On Saturday, I posted a follow-up to a recent Fangraphs' analysis of relief pitchers' aggregate performance over the last 30 years. Although my findings supported the statistical conclusion of the Fangraphs' piece (i.e., reliever performance has not changed meaningfully over the period considered), there was a divergence with regard to the implications.  However, because both analyses only looked at the question from the perspective of relief pitchers, each conclusion may have been incomplete .
Prompted by a comment from MikeD, the following analysis examines the question of bullpen usage from the perspective of the starting pitcher. After all, relievers are only needed to the extent that starters are unable to complete games. Therefore, the usage pattern for the rotation must have an impact on how the bullpen is employed.
Percentage of Batter's Faced by Relievers and Starters, Since 1982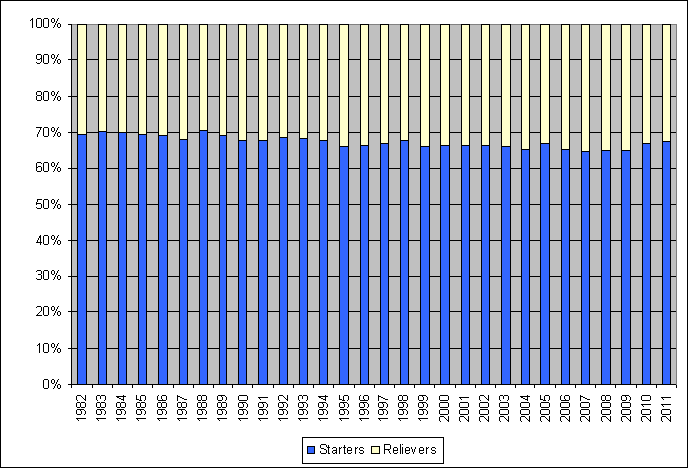 Source: fangraphs.com
Based on innings pitched and batters faced, it appears as if starters are currently going as deep into games as they were in 1982. However, looking at the aggregate total disguises what may be more meaningful trends. For example, since 1919, there has been a gradual decline in the rate of complete games, and even when compared to 1982, the drop has been significant. But, how does this impact bullpen usage?
Rate of Complete Games, Since 1919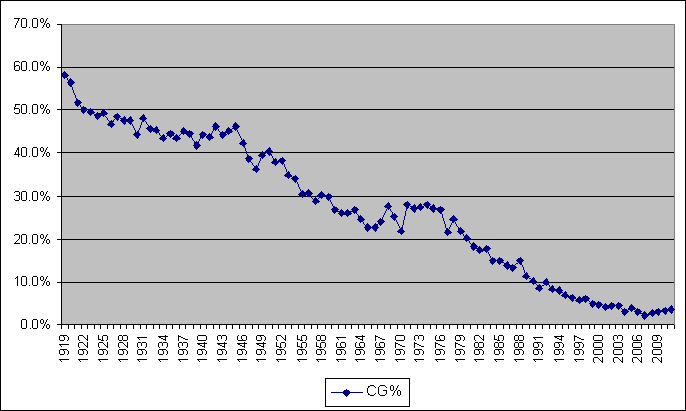 Source: Baseball-reference.com
Going to the extreme, in 1919, starters finished over 60% of their games, so well over half the time, the manager didn't have to worry much about the bullpen. Fast forwarding to 1982 (one of the parameters of the previously cited analysis), the complete game rate had fallen to 17.4%. Despite a much lower percentage, a manager in that era could still bank on full rest for his relievers coming once every five games. In today's environment, however, a night off for the bullpen is a very rare occurrence. As a result, modern managers are faced with the challenge of spreading their bullpen assets over a greater number of games.
If complete games have decreased significantly, what explains the relatively stagnant workloads indicated by the Batters Faced chart presented above? Could it be that the demise of complete games is merely anecdotal, especially if they are being curtailed simply out of deference to the save rule?
Rate of Innings Per Start, Since 1919


Source: Baseball-reference.com
Looked at more broadly, the rate of pitchers going beyond six innings has declined from over 75% in 1919 to 54% in 1982 and then 43% in 2011. Meanwhile, the number of starts lasting three innings or fewer has also declined, falling from just over 10% in 1919 and 1982 to under 5% in 2011. Because of this convergence, there were more starts that lasted between five-plus and seven innings in 2011 than at any other point since 1919.
Rate of Starts Lasting Between 5 1/3 and 7 Innings, Since 1919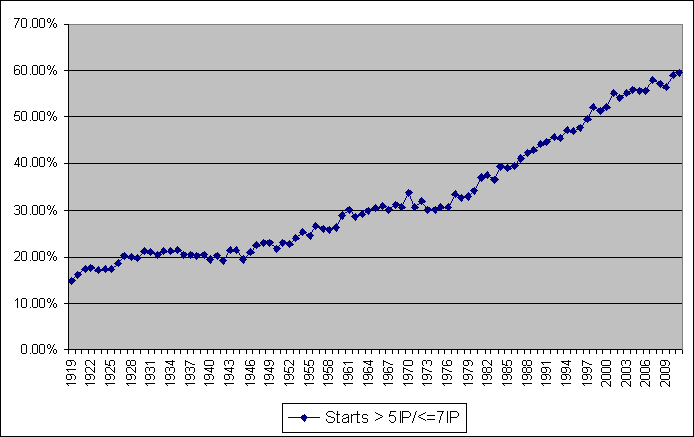 Note: Excludes appearances in which the pitcher appeared in the sixth or seventh inning, but did not record an out.
Source: Baseball-reference.com
Considering the patterns presented in the charts above, it seems as if the evolution toward shorter (but more frequent) appearances has taken place out of necessity. Because very few starters progress into the later innings, managers now must use their bullpens extensively in almost every game. As a result, a "lose the battle to win the war" mentality has taken hold. Whereas 30 years ago, a manager could use a top reliever for several innings because he could count on one of his starters throwing a complete game in the near future, today's skippers aren't afforded that luxury. What's more, it seems as if the need to spread out reliever appearances has resulted in managers being less likely to turn the game over to the bullpen in the early stages. Without room on the roster for a true long guy who could be exhausted for an extended period of time, "saving the bullpen" has become another common mantra for the modern manager.
One final point worth noting is just because relievers aren't throwing more innings or facing more batters doesn't mean they aren't working harder. Along with more appearances come more warm-up throws (what managers today call "getting hot"), many of which occur in games the reliever never enters. Although this doesn't show up on the stat sheet, it is something that managers take into account when making decisions about their relievers.
Whether its "lose the battle" or "save the bullpen", the modern approach to managing a bullpen seems designed to mitigate the risks inherent in having a starting rotation that is unable to provide length on a regular basis.  Based on the evidence, it doesn't seem as if managers could simply reverse course and readopt the bullpen management philosophies of the past. Instead, innovations in bullpen management should be focused upon optimizing leverage, or other modifications to current strategy, because today's starting pitchers simply wont allow relievers to be used as they were in bygone eras.