(The following was originally published at SB*Nation's Pinstripe Alley)
There could be a changing of the guard in the Yankees' lineup this season. In one of his early spring gatherings with reporters, Joe Girardi suggested he is considering flip flopping Robinson Cano and Mark Teixeira in the batting order. Presumably, if Girardi hadn't already made up his mind on the matter, he probably wouldn't have been so forthcoming, so it stands to reason the Yankees will have a new number three hitter in 2012.
Cano's ascension to the third slot, which is widely viewed as being reserved for a team's best hitter, isn't surprising. The sweet swinging second baseman has seemed destined for the role since he was first promoted, and in all five games of last year's ALDS, he was entrusted with the position. What makes the potential switch somewhat intriguing, however, is the incumbent number three hitter is not only still with the team, but also remains within the fringe of his prime.
Year-by-Year Progression of Yankees' Third Place Hitters, Since 1919 (click to enlarge)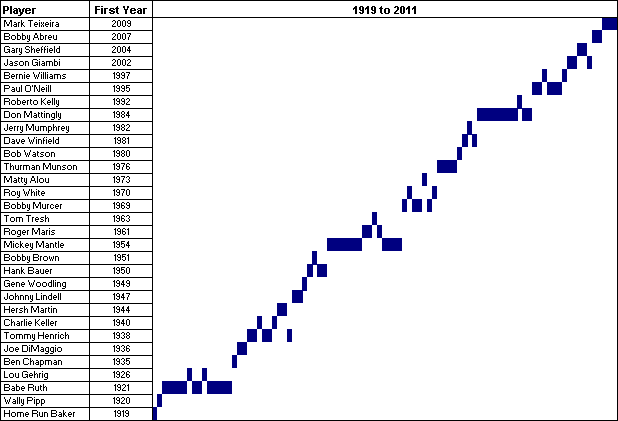 Source: Baseball-reference.com
Although the hand off from Cano to Teixeira won't be as symbolic as the transfer from Don Mattingly to Paul O'Neill in 1994, it will bring an end to one of the longer runs batting third in franchise history. Only four other Yankees were used as the primary third place hitter in more consecutive seasons than Teixeira, and his 440 starts ranks ninth all time. And, with a line of .268/.366/.518 in those games, the Yankees' first baseman did more than just take up space. So, if Cano is the heir apparent, he'll have big shoes to fill.
Yankees' Top-10 Third Place Hitters, Ranked by Career Starts, Since 1919
 
Source: Baseball-reference.com
Putting aside the historical implications, does the decision to swap Cano and Teixeira make sense? As a perennial .300 hitter who uses all fields, Cano seems to best fit the profile of a third place hitter. However, it should be noted that over the past three seasons, the two hitters have had nearly identical slugging and on-base percentages (.361/.529 for Cano vs. .363/.514 for Teixeira). In other words, unless the move is predicated upon a divergence in expectations for the future, past performance suggests the switch will only be cosmetic.
Yankees' LH vs. RH Splits, 2009-2011
 
Source: fangraphs.com
From a strategic standpoint, some have suggested that Teixeira's recent struggles against right handers best supports the decision, especially because Cano has no adverse platoon split. In fact, that was the logic Girardi used to justify making the switch before the post season. Again, the reasoning is sound on the surface, but does it hold up under scrutiny?
Curtis Granderson had an outstanding season against lefties in 2011 (wOBA of .400), but he has historically struggled against them (career wOBA of .301). Although it's entirely possible that Granderson has turned a corner against southpaws, some regression is probably likely. Meanwhile, over the last two seasons, Alex Rodriguez has developed a significant reverse platoon split. If opposing managers are thinking along those lines, Teixeira's presence in the three-hole could deter them from bringing in a lefty late in the game, or at least give the first baseman an opportunity to bat from his stronger side in key situations. On the other hand, because Cano is unaffected by splits, his position in the three-hole would make an opposing manager's decision much easier. What's more, if Teixeira is moved to fifth and Nick Swisher remains in the sixth slot, it would stack up switch hitters who each perform better from the right side of the plate, which would once again make the opposing manager's life a little easier. If the statistical difference between Cano and Teixeira is minimal, perhaps this end-game consideration should be given more weight?
Over the years, there have been several studies suggesting that lineup construction exhibits minimal correlation to run production. However, batting orders mean something, not only to the fans in the stands, but the players in the clubhouse. What might seem like only a cosmetic change has the potential to bruise egos, so Girardi has to proceed carefully. Then again, maybe he doesn't have to make an either/or decision. The third slot in the batting order is usually considered a permanent position, but would a platoon be so bad? If the goal is to bat the team's most productive hitter third, that might be the best way to go.