Add Ryan Zimmerman to the list of young superstars who have opted for long-term security over free agency. The 27-year old third baseman recently signed a $100 million, six-year extension that will take effect in 2014, keeping Zimmerman in the nation's capital until at least the end of the decade. Although all long-term deals come with significant risk, the deal's average annual value of just under $16 million (which is discounted because of a $10 million personal services deferral) could wind up being a relative bargain for the Nationals, especially when you consider the paucity of top flight third basemen.
By signing Zimmerman to a long-term deal, the Nationals not only locked up their young third baseman for the next eight-years, but also prevented 29 other teams from having a chance to woo him. With more and more young superstars opting for security over an opportunity to test the market, it has become more difficult to build a team through free agency. Not only have long-term deals taken several of the games best players off the market (e.g., Evan Longoria, Ryan Braun, Troy Tulowitzki, Matt Kemp, etc.), but when superstars do make it to free agency, they are either just past their prime or extremely expensive, and in many cases, both.
During the last decade, the Yankees' relied heavily on free agency to supplement a core group of players around which the franchise's most recent dynasty was built. More recently, however, the team has started to focus on player development and trades. In many ways, the recent swap of Jesus Montero for Michael Pineda was an illustration of this transition. After failing to sign Cliff Lee the season before, and facing future free agent classes with a limited number of aces, the Yankees opted instead to trade their best offensive prospect for a top young arm. Although pitchers like Matt Cain and Cole Hamels remain potential free agents in 2012, the risk of either, or both, re-signing, combined with the likely inflated cost, was probably a significant influence on GM Brian Cashman's decision to pull the trigger.
The Yankees' relative strength on offense was likely another factor influencing the Montero/Pineda deal, but for how long can they maintain that advantage? A big part of the answer to that question is the long-term status of Robinson Cano and Curtis Granderson, who are both under favorable contracts that contain options through the 2013 seasons, but thereafter would become eligible for free agency. Assuming both players have their 2013 options exercised, the Yankees are due to pay their second baseman and centerfielder $29 million and $23 million, respectively, over the next two seasons. Considering their production and the positions they play, both deals represent significant bargains (for perspective, fangraphs.com estimates the two players provided approximately $57 million in combined value last year alone), but they don't last forever.
Cano and Granderson will be entering their age-31 and age-33 seasons when they are eligible for free agency after 2013, so neither player is as young as the recent crop of stars who have signed long-term extensions (in fact, each player is in the midst of a deal that bought out their initial years of free agency). However, they both project to be productive contributors well into the future, so there's a good chance each will command a handsome contract if allowed to reach the open market. But, should the Yankees let them?
Over the years, the Yankees have mostly shied away from locking up young players and negotiating extensions in the middle of an existing contract. Although this policy has proven to be expensive at times, it has also helped mitigate some of the risk associated with projecting future performance. In the team's more "free spending" days, that was usually a preferable trade-off, but, considering its new cost conscious approach, that may no longer be the case.
Assuming the Yankees are bullish on Cano's and Granderson's ability to maintain their performance, it might be the right time to consider signing both players to an extension. By making an overture two years in advance of free agency, the Yankees could extract a discount in exchange for the added years of security as well as the potential to increase the salary paid in 2012 and 2013. Also, with Derek Jeter's contract up in 2014 and the likelihood that Alex Rodriguez will be in the midst of a transition to DH by that time, the last thing the team would need is to be distracted by two high profile free agents while also trying to replace the left side of its infield.
In addition to creating a greater level of roster stability beyond 2013, there is also a practical financial benefit to signing either or both players to an extension. According to reports, the Yankees have targeted 2014 as the year in which it would like to dip below the luxury tax threshold of $189 million. Needless to say, that goal would be negatively impacted if the Yankees signed Cano and Granderson to expensive long-term deals during the preceding offseason. However, if the Yankees structured extensions as new contracts that begin in 2012, the AAV implications for 2014 would be lowered (see chart below), essentially transferring some of the bargain the team currently enjoys to a more beneficial period.
AAV Implications of Hypothetical Contract Extensions for Cano and Granderson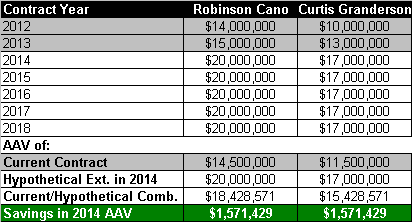 Note: Unless the contract extension alone has an AAV below the current contract AAV, rolling the next two years into a new deal would also yield a lower 2014 AAV.
Source: Cots Contracts (for current contract data)
Using two hypothetical extensions ($100 million for Cano and $85 million for Granderson) as an illustration, the Yankees could lower the combined AAV in 2014 by over $3 million. Although that might not seem like much, every dollar counts when operating under a budget, so a $3 million savings could make the difference between paying a 50% luxury tax or none at all (in addition, falling below the threshold in one season would ensure the Yankees wouldn't pay the top rate again until 2019).
If the Yankees have serious interest in re-signing Cano and Granderson after 2013, and the parties involved can agree on mutually beneficial terms, it might make sense, and cents, to begin the process now. Otherwise, the Yankees could be facing a budget crunch alongside the need to restock its roster, and the only viable free agents available just might be their own.