Because free agency is often expensive and unpredictable, baseball teams have become more amendable to negotiating long-term extensions with players already under contract. Earlier in the week, I examined this trend from the perspective of the Yankees and smaller market teams, but what about the players who have not yet signed or been offered an extension?
The charts below provide the contract status for the "best" young position players and pitchers in the game. Among the position players listed, only four will be free agents after this season (assuming Yadier Molina's extension is consummated and the Yankees and Braves pick up their respective club options on Robinson Cano and Brian McCann). Although the remaining eligible players are far from elite, Michael Bourn, Erick Aybar, B.J. Upton and Howie Kendrick should each draw considerable interest on the open market, especially because of the up-the-middle defensive positions they play.
Contract Status of Top Young Position Players

Note: Includes players currently under 30 entering 2012 with an average bWAR of at least 3.0 over the past three seasons. Age is the player's season age in 2011.
Source: Baseball-reference.com and Cots Contracts
Looking out to the winter of 2013, Cano and McCann both figure to be heavily courted if their teams don't lock them up to an extension first. In addition to those All Stars, MVP contenders Joey Votto and Jacoby Ellsbury are both scheduled to be free agents that offseason. Although the two players have recently discussed the possibility of signing a long-term deal (here and here), initial signs seem to suggest they will test the market in two years. If all four superstars hit free agency at the same time, the feeding frenzy in 2013 could rival this year's spending spree.
Among players with at least three more years of team control, the most intriguing potential free agents include a trio of young outfielders who already rank among the best players in the game. Andrew McCutchen (2015), Justin Upton (2015), and Mike Stanton (2016) are all under contract for several more years, but will be 28, 27, and 26 as they enter their walk years. If they maintain their career trajectories, each one should be in line for a mega pay day on the open market, provided, of course, they don't get one beforehand.
Contract Status of Top Young Pitchers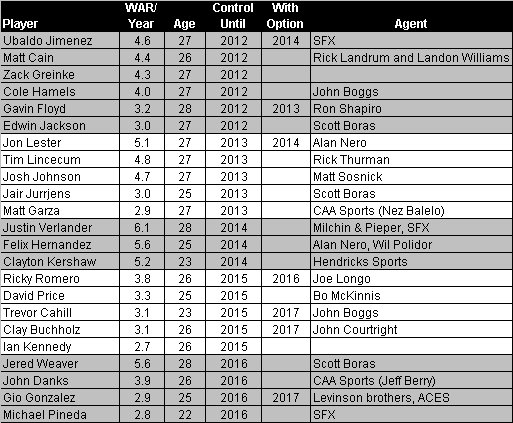 Note: Includes pitchers currently under 30 entering 2012 with an average bWAR of at least 2.5 over the past three seasons. Age is the pitcher's season age in 2011.
Source: Baseball-reference.com and Cots Contracts
This winter could be a pivotal offseason in terms of young pitching. Cole Hamels, Matt Cain, and Zack Greinke are all entering the final year of their contracts, and there haven't been any reports about either being close to signing a long-term extension. If all three pitchers file for free agency, just about every big market team is likely to bid for their services, so neither will come cheap. Unfortunately for the Phillies, Giants, and Brewers, their agents know that too, so any chance of negotiating an extension with a discount has probably been extinguished.
Incredibly, the 2013 free agent pitching class could be even better than 2012's. Headlined by Tim Lincecum and Josh Johnson, the group could also include Gavin Floyd (provided the White Sox pick up his option after 2012), Matt Garza, and Jair Jurrjens. And, if Jon Lester should finish within the top-2 in the Cy Young balloting between now and then, he too would enter the fray. Obviously, with two full seasons to go, the chances of one or more of these pitchers singing an extension seem pretty high, but, at least for the time being, there is strength in numbers.
Continuing with the theme, if the 2013 free agent pitching class looks potent, just wait until 2014. During that winter, arguably three of the best pitchers in all of baseball could hit the open market. Although it seems a given that at least one from the group will sign a long-term deal, if Clayton Kershaw, Felix Hernandez, and Justin Verlander all become free agents at the same time, the amount of money spent that off season would be astronomical (especially if the quartet is joined by Lester).
Looking further afield, with the exception of David Price in 2015 and Ricky Romero in 2016, there aren't as many high profile pitchers scheduled to become free agents after 2014, at least not ones who will still be in the prime of their careers. That could always change as other candidates grow into stardom, but after the next three years of top flight free agent pitchers, the subsequent three-year period isn't likely to be anywhere near as strong.
When you start to rattle off the list of young players who have signed long-term deals, it almost exclusively includes young hitters (e.g., Evan Longoria, Ryan Braun, Troy Tulowitzki, Matt Kemp, Ryan Zimmerman, etc.), which explains why the upcoming crop of free agent pitchers is so strong. Injuries and greater variability in performance are probably the two main reasons teams have shied away from extending pitchers, but with the free agent price of talented young arms continuing to sky rocket, many teams may soon be forced to reconsider that position.